Gift Certificate - $75.00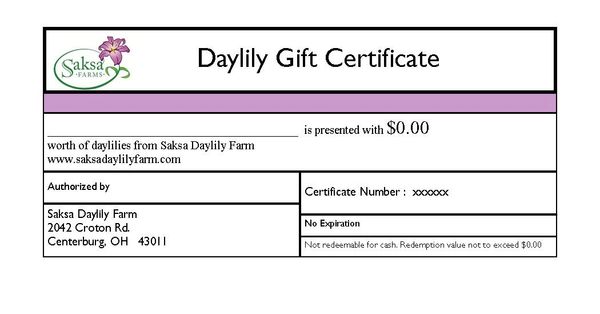 Gift Certificate - $75.00
Gift Certificates are emailed out within 48 hours of ordering. If you'd like them sent by mail, please send a note to saksafarms@gmail.com to let us know.  
$75.00 Gift Certificate
Can be redeemed at our Farm, for Internet Orders, or for Phone Orders 
How to Redeem your Gift Certificate :

    Each Gift Certificate will have a unique Certificate number. When you have selected  the daylilies that you want to purchase and are at the CHECKOUT, enter the certificate number in the COUPON field and click Apply.
    The amount of your gift certificate will be deducted from the cost of the daylilies ordered. No deduction will be made for Sales Tax and Shipping charges; only daylilies ordered. If the daylilies ordered is less than your gift certificate amount, your order will be reduced by the amount of the daylilies ordered. Any Sales Tax and Shipping amount will still need to be paid. We will send you another gift certificate number for the amount of the Unused portion of the gift certificate that can be applied to your next order.  

    If redeeming at our farm or for phone orders, the gift certificate cannot be used for Sales Tax or Shipping charges.  

    Note: If you are redeeming your gift certificate, no other coupon codes can be applied to your order.     
For example:  10 daylily plants are chosen

Gift Certificate Amount                   $100.00

Cost of daylilies ordered                 $  50.00
Sales Tax (on Ohio orders only)     $    3.38 

Estimated S & H                                $  20.00
Total due                                            $  23.38                      

Another gift certificate code will be sent for $50.00 for another order.

Gift Certificate is used for the $50.00 daylily cost;  the sales tax (if applicable) and Shipping and Handling (S & H), in this case, $23.38, must be paid separately.
If you have any questions, please feel free to call us at 740-815-8142.